2023 Democratic Unity Celebration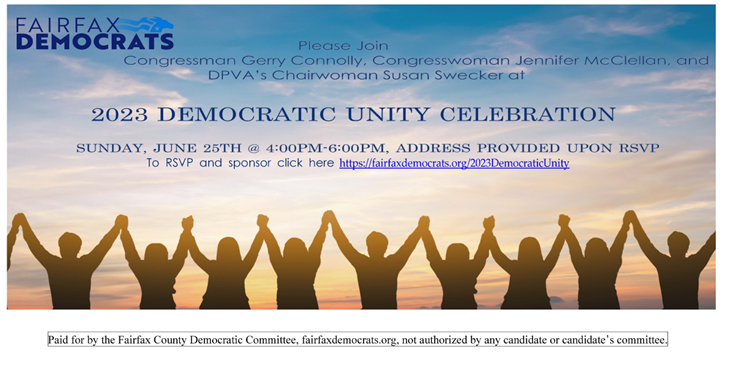 Description
Please join former FCDC Chair Sue Langley, current FCDC Chair Bryan Graham, and DPVA Chair Susan Swecker, in kicking off the general election season. Congressmembers Gerry Connolly, Jennifer McClellan and Jennifer Wexton are confirmed for the event, with more to come.
Following spirited primary seasons, Fairfax Democrats always come together to celebrate our unity and to keep our Fairfax deep blue.
This election cycle is so important. Our voters will see the names of fourteen Democrats on the ballots starting late September during early voting and on November 7. Our Constitutional Officers, Chairman of the Board of Supervisors and District Supervisors, State Senators, Delegates, School Board representatives, and Soil & Water Directors, all need our help getting elected.
Food and drink will be in abundance!
Register here: