Español / Việt / 한국어 / हिंदी

Today is Wednesday, October 24th
13 Days until November 6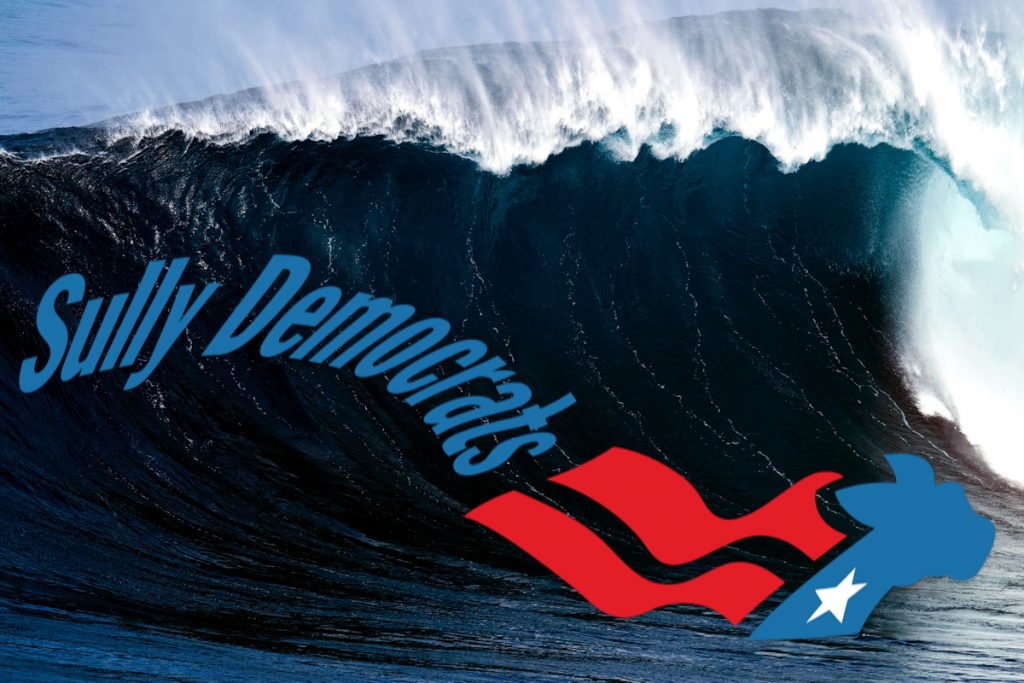 Turnout is everything when you're surfing in a 'midterm' election
If you've seen the rosy headlines predicting a Blue Wave, it's time to read the small print in those articles. Only 69 Congressional Districts are actually considered 'contested' this year, including the 10th Congressional District, which has been represented by a Republican for 60 of the last 66 years. 2018 is Barbara Comstock's 4th Congressional campaign and her ads are venomous. State Senator Jennifer Wexton is experienced and motivated. Her ads are anchored on truth.
Dive down into the recent Washington Post poll conducted with GMU's prestigious Schar School of Public Policy.  Of the 69 'contested' House races, 63 of them are now or were represented by Republicans, e.g. there are 6 'contested' House Districts represented by Democrats that must be defended.  Hold your breath. In 2016 Trump carried 48 of the 69 'contested' districts.
What does that mean?  If you do the math you see that in 2016 Democratic Congressional candidates lost in 21 Districts where the top vote getter was a Democrat. Twenty-one seats lost to Republicans mean a Republican-led and Trump-friendly House in 2019.
In 2018 we have a very popular Democratic leader, Senator Tim Kaine, at the top of the ballot.  But based on our past, we know that doesn't ensure a Democratic victory in Congressional elections.
What does?
FCDC Chair Dan Lagana says:
"The Sully district is central to flipping the 10th because Republicans will likely win Frederick and Clarke Counties in the district's western half. Those counties voted for Governor Northam's Republican challenger by about 8,000 more votes last year.

The Governor's margin of victory in the Sully district was 6,352 votes. The 23 Sully precincts erased 80% of the vote difference from those two counties.

About 2,700 people in those same precincts voted for Hillary Clinton and presumably also voted for Barbara Comstock.

There are three keys in Sully now: 1) Environment (out of our control), 2) fundraising (largely out of our control), 3) turnout (within our control).

The final two weeks of canvassing and phone calling could very well be the margin needed for a Democrat to win this seat that Republicans have held for 60 of 66 years."

Free DNC Phone App
If your friends live in Fairfax and especially if they live in the Sully District, you need to get them involved. But what can or should Dems in Fairfax's Sully District do about the other 69 contested House districts?
The Democratic National Committee developed a FREE cellphone app that uses your cellphone contact information to identify friends in one of the 69 'contested' House Districts discussed above.
The app – which does NOT track usage – allows the cellphone user (that's you) to text contacts in contested districts to remind them to vote.  The app even allows you to alert your contacts to check their voter registration information if a district has recently purged voter rolls.  This is a great tool recommended by FCDC.  Get the VOTE WITH ME app here
   FREE: Meet and Greet for Stella Pekarsky
Tireless Advocate for Schools and Democrat for School Board in Sully
Sunday, October 28  1:00 to 2:30 p.m. in Centreville (map)
More information here
   FREE: Walk with Sully District Supervisor Kathy Smith
Leisurely 2 mile walk through beautiful Lawrence Park with Supervisor Smith and Friends
November 3, starts at 8:00 a.m. Meet in the Visitor Center parking lot (map)
Details here
FREE: Watch Election Night Returns
Tuesday, November 6, 7:00 p.m.
FCDC's Big Bash at the Falls Church Marriott Fairview Park (map) OR
Gather with friends from Sully's polling places at The Hitch restaurant (map)
More information here
Last Volunteers at a Precinct return the Precinct Box and other items to The Hitch.
FREE: Volunteer Appreciation Party
Friday, November 9, 6:00 to 8:00 p.m.
12011 Bennett Farms Court in Herndon (map)
The Sully Democrats host this party to THANK all our volunteers.  Time to eat, drink and celebrate with everybody who worked for Democrats.  Did you canvass, phone bank, open your house, donate, write postcards, drive, register voters, organize or otherwise do one of hundreds of jobs for this Election?  All are welcome. More information here.
FREE: Good Deed Clean-up along Stringfellow Road
Sully Dems Calls Them the Trashketeers – Pick Up Trash on Sully Dems Section of Stringfellow Rd
Saturday, November 10, 9:30 to 11:00 a.m.
Meet at Greenbriar Park on Stringfellow Rd (map)
All are welcome
FREE: Dan Helmer for Delegate Campaign Kickoff
Saturday, November 17, Noon to 3:00 p.m. in Clifton
Please join the many elected officials in Virginia who have already endorsed Dan's campaign as well as Donte Tanner, who got us so close in 2017, to show our support for Dan's run. There will be surprise guest speakers, as well as a Silent Auction and Raffle Prizes!
Click here to register for the FREE event